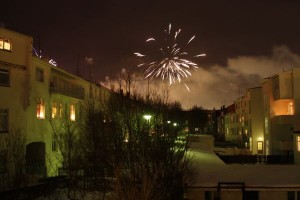 According to The Icelandic Tourist Board Iceland has become increasingly popular at Christmas. A record number of tourists is expected to spend the holidays there this year. It used to be a problem that restaurants and shops were closed for days during the festive season, but apparently that's not the case anymore. If you are traveling to Iceland HERE'S a useful list of places open these days.
It can also be useful to learn some Icelandic phrases and in THIS ARTICLE you can learn 11 of them, such as;
'9.  "Verða rauð jól í ár?"
Do you expect a snowless Christmas this year? – Every year, Icelanders (mostly Southerners) hope and dream of a white Christmas because in Iceland, it really isn't Christmas unless the ground outside is covered in beautiful, white snow. A snowless Christmas is called 'a red Christmas', or rauð jól.
10. "Áttu malt og appelsín?"
Do you have malt and appelsín? – Once a year, Icelanders will mix two popular soft drinks together to create what's called 'jólaöl', meaning Christmas ale (non-alcoholic). Malt and appelsín are drunk separately all year around, but 'jólaöl' is reserved for Christmas only. Every family has their very own secret 'jólaöl' recipe and the ratio between malt and appelsín differs from one family to the next.'