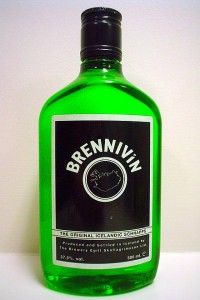 This is how Wikipedia describes the Icelandic Brennivín, something everyone visiting Iceland simply has to try:
'Brennivín is a clear, unsweetened schnapps that is considered to be Iceland's signature distilled beverage. It is a popular Icelandic liquor and special-occasion alcohol shot, and the traditional drink for the mid-winter feast of Þorrablót. It is made from fermented grain or potato mash and flavoured with caraway, and for this reason can be considered anaquavit.[1] The steeping of herbs in alcohol to create schnapps is a long-held folk tradition in Scandinavian countries. Brennivín has a unique and distinctive taste similar to vodka or Scandinavian akvavit. It is typically bottled at 80 proof.'
I find Brennivín rather disgusting, to be honest. It reminds me of my teenage years, when beer was banned in Iceland. The youngsters drank Brennivín, distilled spirit people produced at home, or even some home-brewed horror. My taste buds never agreed with any of it.
There are several videos on Youtube where people from all over the world try Brennivín.
Enjoy!
And sometimes people even sing about Brennivín.