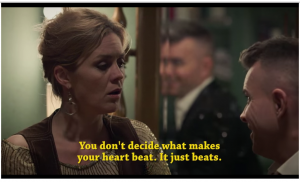 At the moment I'm incredibly proud of being Icelandic. The reason is the same as often before, that matters regarding LGBTQI+ rights are quite progressive in Iceland. I've written about it before, here and here.
Last Sunday the longest running TV program for children, 'Stundin okkar', (Our hour) aired an episode in the afternoon, just like most Sundays during the wintertime for more than three decades. However, this episode was different. It featured the Pop artist Paul Oscar as the main guest, touching  on the topic of being gay. The conversation was open, very natural and heartfelt. The fact that this was aired on RUV, The Icelandic National Broadcasting Service, makes me very happy.
'Some guys like other guys, some guys like girls. Some girls like guys, some girls like other girls. – You don't decide what makes your heart beat, it just beats.'
We're one step closer to equality. Well done!
Gay Pride last August, Paul Oscar singing.