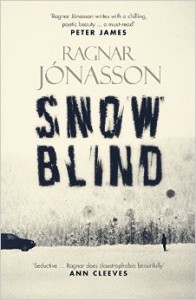 INDEPENDENT talks about the finest books of 2015 'to to fire the imagination, engage the grey matter and invigorate the spirit over the festive period'. I was happy to notice that amongst the 8 best crime books is the Icelandic novel Snowblind by Ragnar Jónasson.
'Icelander Ragnar Jónasson's first novel in the UK is Snowblind (Orenda, £8.99, trans. Quentin Bates), drawing inspiration from both the Scandinavian tradition and the classic English crime novel. His subject is the corruption that stretches to the upper echelons of Icelandic politics.'
Snowblind is the first book in a series called Dark Iceland. It's set in Northern-Iceland, mainly in and around the small town of Siglufjörður. HERE you can read an interesting interview with the author and here's Ragnar's Twitter account, where you can get to know him even better and find out how to get hold of his book.