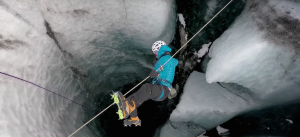 I've watched a good deal of videos portraying the breathtaking beauty of my homeland, but this one is different. Vatnajökull is  the largest and most voluminous ice cap in Iceland. It's located in the south-east of the island, covering more than 8 percent of the country.
Tim Kemple is an photographer and filmmaker in his thirties, but also a dedicated climber. In this video you see him and his team of professionals on their adventure in Iceland, climbing the stunning Vatnajökull.
If you want to read more about it, here's his website.