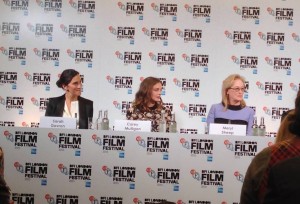 This morning I had the pleasure of watching the film Suffragette by director Sarah Gavron, written by Abi Morgan.
Suffragette is a drama that tracks the story of the foot soldiers of the early feminist movement, women who were forced underground to pursue a dangerous game of cat and mouse with an increasingly brutal State. These women were not primarily from the genteel educated classes, they were working women who had seen peaceful protest achieve nothing. Radicalized and turning to violence as the only route to change, they were willing to lose everything in their fight for equality – their jobs, their homes, their children and their lives. Maud was one such foot soldier. The story of her fight for dignity is as gripping and visceral as any thriller, it is also heart-breaking and inspirational.
I thoroughly enjoyed the film and think it's fantastic. The cast couldn't be better; Carey Mulligan is captivating in the leading role of Maud Watts and all the other actors are brilliant. Suffragette is beautifully shot and the set design is perfect. I've read reviews by men saying they had difficulties connecting to the film emotionally. They claim that something is lacking in the storyline and the film is too feminist.  I don't understand those remarks and neither did three women I talked to after the press screening. We were all moved by the story and had tears in our eyes.
Meryl Streep plays the role of Emmeline Pankhurst and has been promoting the film, even though she only has one scene. At a press conference this morning she spoke about the need for more female movie critics, and it made me think it's perhaps not strange how often I don't agree on which films stand out, or should get more recognition. She said:
'I went deep, deep, deep, deep into Rotten Tomatoes and I counted how many contributors there were, critics and bloggers and writers. And of those allowed to rate on the Tomatometer, there are 168 women. And I thought, 'that's absolutely fantastic.' If there were 168 men, it would be balanced. If there were 268 men, it would unfair but I'd get used to it. If there were 368, 468, 568…. Actually there are 760 men who weight in on the Tomatometer.'
Meryl also went on the New York Film Critics' website and found that there were 37 men and only two women.
'The word isn't 'disheartening,' it's 'infuriating.' I submit to you that men and women are not the same. They like different things. Sometimes they like the same things, but their tastes diverge. If the Tomatometer is slided so completely to one set of tastes, that drives box office in the U.S., absolutely.'
Suffragette opens the BFI – London Film Festival 2015 tonight.