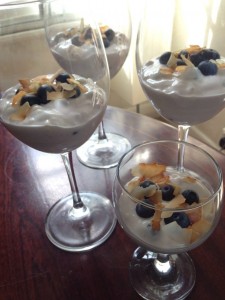 I had guests over for dinner the other day and decided to make a dessert dedicated to both islands, Great Britain and Iceland. The outcome was Eton Mess with an Icelandic twist, using skyr. If you want to know more about skyr I wrote about it in an earlier blog post.
Ingredients
450 gr/15.8 oz  skyr
100ml/3.4 oz  double cream 
 dash of Ribena blackcurrant juice
3 x 7.5cm/3in   meringue nests, crushed
300 gr/11 oz  blueberries
almond flakes
coconut flakes
Preparation method
Roast the almond and coconut flakes in a dry pan, until golden. Set aside to cool.
Whip the cream lightly and fold in the skyr and blackcurrant juice.
Add the crushed merengue and blueberries.
Divide into four glasses or bowls.
Decorate with almond flakes, coconut flakes and blueberries.
Bon appetit!