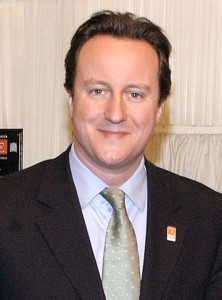 British Prime Minister, David Cameron, is visiting Iceland and will be attending the Northern Future Forum in Reykjavík. A British Prime Minister hasn't made an official visit to Iceland since 1941, when Winston Churchill met with the Icelandic government.
Iceland isn't inside the EU, but is a member of the EFTA, a grouping of four non-EU European countries. It's also part of the European Economic Area EEA. Through the EEA, Iceland participates with a non-voting status in certain EU agencies and programmes, including enterprise, environment, education and research programs. Here you can read about the ongoing debate on if Iceland should join EU. Regarded as one of the biggest benefit of being 'outside' of the EU is the ownership of the fish in Icelandic waters.
Fisheries management in Icelandic waters is primarily based on catch limitation (output control) through individual transferable quotas. The reality is that only a few families in Iceland own the quota and therefore are the only ones getting rich from it. The rest of the nation scrambles to get by. So instead of other countries getting money for our fish, the Icelandic 'quota kings' – as we call them – get rich. Can't see a lot of difference for the majority of Icelanders. I bet David Cameron and Iceland's Prime Minister, Sigmundur David Gunnlaugsson will not discuss this. There is another subject Cameron will be eager to discuss with the Icelandic PM, the possibility of an undersea cable between the two countries.
Iceland gets around 95% of its power from hydro and geothermal energy. An undersea cable could supply UK homes with geothermal energy from Iceland's volcanoes within a decade, they say. So, other countries might not fish in our waters but now they will probably get our energy. That worries me.
At a press conference, held midday, Cameron will probably take the opportunity to announce that he hopes Britain will remain in the EU and talk about the cable as well.
Last year ITV's journalist Tom Bradby was in Iceland. 'What's life like in an European country that's not part of the EU?', he asks. 'Iceland has often been held up as one of the primary examples, so last year I travelled there to see how the country fares'. I recommend reading and watching Could Britain ever truly be free of the EU?