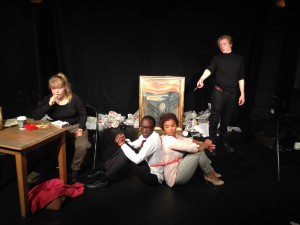 London is the theatre capital of the world so it's a privilege to live here for someone who loves to see new plays. Last night I was lucky enough to witness a preview of a brand new comedy, The Lost Art of Lost Art. It's a dark comedy about art theft, inspired by the past thefts of The Scream and the Mona Lisa. Molly and Lee think they're masters of the craft. They've done the hard bit and 'The Scream' is hanging on their safe-house wall. It's worth over £74million… if only they could sell it! The play asks questions like: How far would you go for money and is art nothing more than a price tag?
Two of the talents are Icelandic. Álfrún Gísladóttir produces and also plays one of the thieves, and Sara Hjördís Blöndal is the set and costume designer and also manages the stage. The production is the winner of the 2015 Scottish Daily Mail Award and is on its way to the Edinburgh Fringe Festival. It's directed by Lucy Atkinson, who was kind enough to talk to me before the show started. I asked her how she got involved.
The show last night went really well. The writing is good, the tempo was spot on, visually it was genuinely convincing and there was a lot of laughter, so the audience obviously liked the comedy. I wish them well at Edinburgh and I can't wait to see what the future holds for those talented and clever kids.
Cast:
Lee – Jamie Finn
Molly – Alfrun Gisladottir
Norman – Baker Mukasa
Nancy – Anna Crichlow
Producer: Alfrun Gisladottir (Raspberry Tart Ltd.)
Writer: James Hamilton
Director: Lucy Atkinson
Designer: Sara Hjordis Blondal
Stage Manager: Sara Hjordis Blondal & Stefanie Munck
Lighting designer: Jack Channer