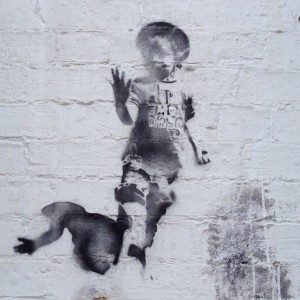 I noticed this street art in my neighbourhood a while ago and I like it. There is something about the little kid that fascinates me. Can't quite put my finger on it.
I did some research and found out it was made by a street artist called Bambi. Rumours say Bambi is female and a former celeb in the music industry. Nobody knows. Some call her 'the female Banksy'.
Bambi is from North London and in 2010, the vandalism of a popular Bambi stencil in Primrose Hill reignited a long running London debate over the preservation of street art and resulted in Islington Councillors proposing a community committee be established to rule on the future protection of street art. Her best known work is probably when she commemorated the royal wedding of Prince William and Kate Middleton with the satirical slogan 'A Bit Like Marmite' across their chests.