What on earth is Promming?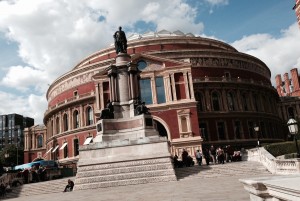 I'm watching 'BBC Proms: The Story of Swing' on BBC4 at the moment. Enjoying myself immensely, dancing around my living room. Being there is even more fun though, so I wanted to tell everyone traveling to London about Promming.
You'd think it was really expensive to buy a ticket to a Proms concert at the Royal Albert Hall, but it doesn't have to be.
The popular tradition of Promming, standing in the Arena or Gallery areas, is central to the unique and informal atmosphere of the BBC Proms. Up to 1,350 standing places are available for each Proms concert. All you have to do is turn up on the day of the concert and then you have the chance to buy a ticket for only 5 pounds. However, if you are going to a concert with famous performers or music loved by many, get there early and be prepared to stand in line for hours. People are usually in good spirit so being part of those queues can be a whole lot of fun.
The Proms has a long and wonderful story, read about it here!