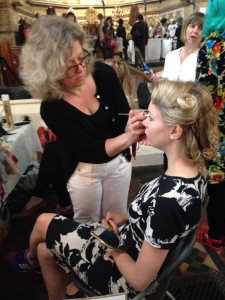 If you like vintage clothes and antique, going to a Vintage Pop-Up Fair is time well spent. A bit like travelling back in time. It's perhaps not as cheap as the markets where you have to go through a lot of rubbish to find a pearl in the sand, but definitely not as expensive as buying from a posh vintage- or antique shop.
More importantly the atmosphere is amazing, live singers performing songs from the past, a tea room with old fashioned baking and a vintage beauty parlour. That's what they promise on their website:
"All the fairs are choc-a-bloc full of handpicked, quality, vintage traders who offer a wide range of genuine vintage goods. From ladies & menswear, both designer and affordable, to a stunning array of vintage jewellery, fashion accessories, haberdashery, retro furnishings, homeware, vintage posters, antique maps, collectables, curiosities and more, all from the 1920's – 1980's."
Fortunately it's all true. I've gone to so many of those fairs and never been disappointed. I've bought gorgeous German 50′ earrings for 6 pounds and beautiful handbags for a10-15 pounds.
You can read more about those fairs on their website Pop Up Vintage Fairs London and check out the amazing Pincurls and Pout as well.