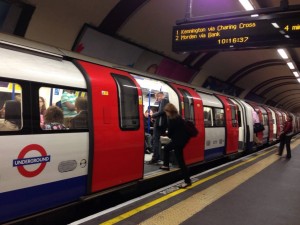 It's complete chaos in the capital due to a tube strike. All major lines are completely closed, making this the first total shutdown in 13 years. The bus queues are endless.
Fortunately it will be over by midnight.
I love the London Underground. For an Icelander, not used to this luxury, it's so brilliant to be able to get from one part of the city to another so easily and in such short time. It can be madness during rush hour but apart from that it's splendid.
However, I've never thought about the London Underground as a replacement for Tinder or whatever people use these days to find love. Apparently one can find romance on the tube, or so they say on ITV, where they also list top stations to find singles.
Wonder if commuters will find love in the chaos today!