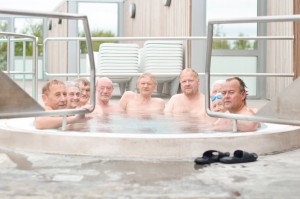 I can't think of anything more Icelandic than soaking in a hot tub on a cold starry night.
The Hot Tub is a short documentary by Harpa Fönn Sigurjónsdóttir & Askja Films. The film is due to be released in the autumn and is seeking funding on Karolina Fund. A worthy cause to support.
The Hot Tub captures the unique culture of the Icelandic HOT TUBS. Iceland has long been known for its natural, warm water due to geothermal activity. Hence our great, warm swimming pools all around the country with traditional hot tubs on the side. After a good swim it has become a tradition for many Icelanders or "Hot-tubbers" to relax in the hot tub and socialise. On a cold winter morning, this is something that cannot fail.
For some, this has become more than just a tradition, but rather a fundamental ritual to start out the day. In the documentary, we get to know these people and what it is that drives their dedication to the hot tub, what makes them tick, what makes them laugh and what makes them cry.
Directed by: Harpa Fönn Sigurjónsdóttir
Produced by: Eva Sigurdardottir & Harpa Fönn Sigurjónsdóttir
Production Manager: Anna Sæunn Ólafsdóttir
Animation: Lára Garðarsdóttir
Music by: Kira Kira
Production Company: Askja Films
Facebook Page