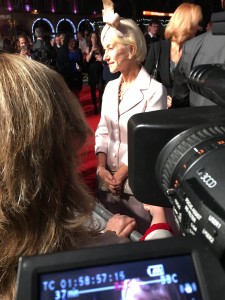 BFI – London Film Festival is almost over. It's been fantastic! I can't decide which film is my favourite, but there are a few I love and some I thoroughly enjoyed watching.
Suffragette is the film I'd been waiting for like a kid waits for Christmas. I wasn't disappointed, it's a really good movie and I loved it. Another film I loved is Carol by Todd Haynes with Cate Blanchett and Rooney Mara in the leading roles. It's a brilliant movie. The Lady in the Van will perhaps be too theatrical for some viewers, but I loved it. Watching the fine acting of Dame Maggie Smith and Alex Jennings was a pleasure and I can say the same about Lily Tomlin, starring in that clever little film Grandma. She's such a good actress and I enjoyed the film. Trumbo was good, not a perfect film but enjoyable. Great actors again, Bryan Cranston, Helen Mirren and John Goodman.
Other films I'd like to recommend are; The Here After (Efterskalv) by Magnus von Horn, the documentaries Ingrid Bergman in Her Own Words and He Named me Malala and finally the dark and twisted Men & Chicken (Mænd & høns).
Finally, here's some interesting and entertaining words from the stars. Sorry about the bad quality of the recording.
First up, Cate Blanchett reflecting on better roles for women in films.
Dame Maggie Smith was asked if she'd gone method for the role of Miss Shepherd.
Alan Bennett and Maggie Smith on ageing.
Cate Blanchett was asked if she thought it would have mattered if Carol was made 5-10 years ago.