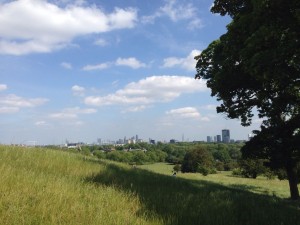 In the words of William Blake 'I have conversed with the spiritual Sun. I saw him on Primrose Hill'. It's my heaven as well. One of my favourite places in London. It's such a privilege to be able to take a stroll up Primrose Hill most days. It has one of the best panoramas the capital has to offer, but also fields of green, beautiful trees, and yes… tourists. However, they usually just visit the same spot so it's easy to walk a bit further and be alone with your thoughts. You can read more about Primrose Hill here.
WILLIAM BLAKE  (1757 – 1827)
Poems and Prophecies. Everyman/Dent, 1950.
From Jerusalem, Chapter 2 (To the Jews) p.190
The fields from Islington to Marybone,
To Primrose Hill and Saint John's Wood,
Were builded over with pillars of gold,
And there Jerusalem's pillars stood.
Her Little-ones ran on the fields,
The Lamb of God among them seen…
The Jew's-harp-house & the Green Man,
The Ponds where Boys to bathe delight,
The fields of Cows by Willan's farm,
Shine in Jerusalem's pleasant sight.