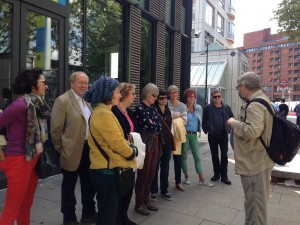 History is at every step in London. Tudor, Victorian and Edwardian architecture is everywhere and as are the stories of famous people who used to live in the buildings.
Guided history walks are really popular here in London. I've been on a few of them myself and have never been disappointed. On Saturday, I went to a 'Historic Local Walk: South Hampstead', held by Friends of St Mary's, a charity supporting vulnerable young people.
We had an excellent guide, David Brown, who most definitely knew the art of mixing knowledge and entertainment. I had never heard about the Hampstead murders, nor had I ever heard about Martina Bergman Österberg, a pioneer in physical education for women and a suffragette. I was also introduced to a very different lady, Lillie Langtry, one of the many mistresses of Albert Edward the Prince of Wales.
If you are visiting London, I highly recommend going on one of these walks.