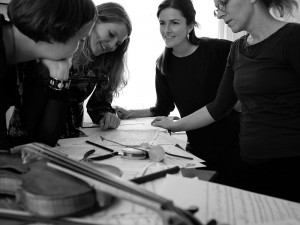 These days I'm spellbound by a piece of music called Clockworking. I find myself playing it over and over again. Its rhythmical repetitions leave me in a calm, almost hypnotised state, but at the same time the music seems to tickle the brain until my imagination runs riot. It's captivating. I like to listen to music that affects me like this when I'm writing and it has made me think of how one form of art can help create something completely different.
Clockworking is the title track of a new album from Nordic Affect, an incredibly talented quartet of women, comprised of Halla Steinunn Stefánsdóttir on violin, Guðrún Hrund Harðardóttir on viola, Hanna Loftsdóttir on cello and Guðrún Óskarsdóttir on harpsichord. The track was composed for violin, viola, cello and electronics by María Huld Markan Sigfúsdóttir, who is perhaps best known for her work with amiina.
Since its foundation in 2005, Nordic Affect has combined new compositions with the music of the 17th and 18th century. This comes as a natural reaction to the vibrant musical life of Iceland, where music from ancient manuscripts is being rediscovered at the same time as new compositional computer software is being developed.
The new album is released July 31st and it features the music of five Icelandic female composers – Anna Þorvaldsdóttir, Hildur Guðnadóttir, María Huld Markan Sigfúsdóttir, Hafdís Bjarnadóttir, and Þuríður Jónsdóttir. The album was recorded by Georg Magnússon at The Icelandic National Broadcasting Service, with mastering and post-production by Valgeir Sigurðsson. Clockworking will be released on the Sono Luminus label which is entering an exciting new phase with the appointment of CEO Collin J Rae.
Nordic Affect's website (it is down at the moment, but will be up tomorrow)