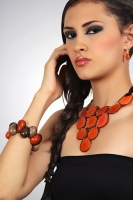 Had a lovely day at the annual Primrose Hill Spring Festival. There's always a variety of tasty street food from different corners of the world, music playing and stalls where artists, designers and antique dealers are selling their products.
Today I spotted quite unusual jewellery and was told it's made from Vegetable Ivory. It's a seed produced naturally by the "Phytelephas Macrocarpa" palm tree which only grows in the tropical rainforest of Colombia and a few South American countries.
Vegetable Ivory has become increasingly important as the only natural, ethical and sustainable alternative to elephant ivory, because the texture and colour are almost identical.
I talked to the designer, Martha Lizarazo, who is born and raised in Columbia but has lived in London for a long time. She is passionate about elephant conservation and says the use of this special seed also stimulates the economies in South America and preserves the rain forests. She founded Caliz London some time ago and it is growing fast.