Life Will Never Be the Same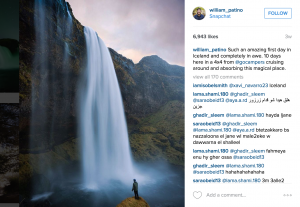 The Australian photographer and travel blogger William Patino recently visited Iceland. Some of his photos are among the best images I've seen portraying my homeland. William claims after ten days in Iceland, his life will never be the same again. You can read about it and take a look at his amazing photographs on Bored Panda.
In a comment to a Aurora Borealis pic on his Instagram account someone asks; 'Out of curiosity, of all the places you've been in the world, is there something special about Iceland that yields a burning daily desire to return?'
And his answer goes like this; 'Watching the Northern Lights dance intensely across the sky for hours on end was a pretty surreal moment. That couple with hundreds of miles of vast, dramatic and unique landscapes with permanent golden light. That pretty much does it for me.'
I hope he'll be able to visit Iceland often in the future.