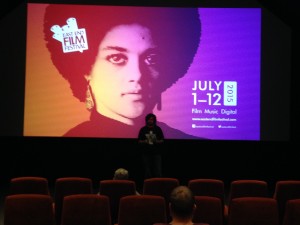 When the sun is shining bright, on one of the most beautiful Saturdays of the summer, going to a Film Festival is perhaps not what most people choose to do. Let alone to watch a pretty bleak Nordic film. A few film enthusiasts did so anyway to watch Baldvin Zophoniasson's second feature, Life in a Fishbowl at the East End Film Festival.
The film follows three very different characters offering a cross section of society after the financial crash in Iceland 2008. A kind-hearted single mother takes on a demeaning career to stay afloat and protect her child; a dishevelled drifter drinks in order to forget his past; and an ambitious businessman wrestles with his conscience in the face of corporate fraud.
I talked to some audience members after the screening and they all liked the film. A few talked about how gripping it was and one said she wanted to marry Móri. Most of the people were eager to run out and bask in the sunshine but I managed to get an interview with Tim Evans, who was kind enough to sit down with me and share his thoughts on the film.