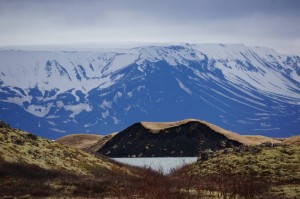 This morning my neighbour moaned about the weather. The spring has been so different from last year and even the year before, he complained. He went on about how cold and windy it was and said he couldn't wait for the summer, although he was beginning to think it would never turn up.
I've heard so many talk like this during the last weeks and usually I just bite my tongue so I don't compare the spring over here to snowy Iceland. But this morning I couldn't resist showing him a photo from Iceland on my mobile. June is almost here, but it's still snowing from time to time and really cold everywhere.  It's the coldest May in Iceland since 1979 and the third coldest since 1949 as you can read about in this article.  My neighbour smiled and told me he was slightly happier now with going for a walk in the rain.
I'm constantly happy with the weather here in the UK. But everything is relative. I can imagine how a person from Greenland feels when she hears an Icelander moan about the weather in Iceland.